The Ethan Project AmeriPlan's Labor Of Love
Dec 21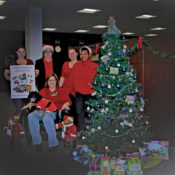 Ethan Project
Each year AmeriPlan Staff pick a children's charity in the name of Ethan Sanchez, Ethan was the son of one AmeriPlan's family who passed away in 2013 from Leukemia.  Ethan's Project, is a labor of love and has been a healing avenue for all of us.
This year we picked Children's Health Children's Medical Center of Dallas and our theme was Legos.  These precious children undergo many medical procedures and after completing a procedure, patients choose an item from a prize bin.  These  prizes serve as positive reinforcements for children after their medical procedure.
We want to send out a Big "THANK YOU" to all the AmeriPlan staff that donated Legos this year.
The AmeriPlan Employee Motivation Team want to wish you and your family a very Merry Christmas and a Prosperous New Year!