ATTENTION! AmeriPlan Company 800 Phone Lines Are DOWN!
Apr 13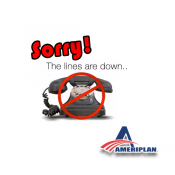 Due to circumstances beyond our control, ALL the AmeriPlan Corporate Office 800 Phone Lines  are TEMPORARILY DOWN due to a glitch in our phone system!
We are diligently working with our phone provider to correct the issues!
Please contact us by the following methods:
E-mail addresses:
Customer Support: customersupport@ameriplanusa.com
BC Support: customersupport@ameriplanusa.com
Provider Support: providerinfo@ameriplanusa.com
Or by Online Chat from the AmeriPlan USA website:
AmeriPlan Corporate
https://www.ameriplanusa.com
AmeriPlan Opportunity
https://www.ameriplanopportunity.com
Save With Discount Healthcare
https://www.savewithdiscounthealthcare.com
Thank you for your patience, we will let everyone know when the phone lines are up and running!
AmeriPlan USA Corporate Office.