Special Announcement From AmeriPlan Founders Dennis And Daniel Bloom!!!
Jul 06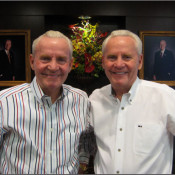 Special Announcement from Dennis and Daniel Bloom!!! 
Exciting News!
We are very pleased to announce that the Jump Start Promotion we ran April, May and June was incredibly successful. Hundreds of Jump Start Benefit Consultants (JSBC's) earned tens of thousands of dollars in Jump Start Bonuses. Because of this, we have decided to make the promotion a permanent part of our compensation plan and a replacement for the original Jump Start Program.
Effective July 1, 2017, as a JSBC, you will earn a $200 Jump Start Bonus for each new $269.95 JSBC you personally enroll.
If a non-Jump Start (Traditional) Benefit Consultant enrolls a new $269.95 JSBC, they will earn a $100 Jump Start Bonus.
Finally, if a Traditional Benefit Consultant upgrades to a JSBC by purchasing a $225 Jump Start Pack, their enroller will earn a $100 Jump Start Bonus.
Important: Under the new program, new JSBC's will be able to qualify for the following during the first 30-days from their start date. 1 – the $250 All Star Bonus and pin by personally enrolling 3 new JSBC's, 2 – AmeriPlan will pay their monthly $24.95 membership fees when they personally enroll their 4th JSBC ("Get 4 and pay no more") and 3 – personally enroll your 5th JSBC to become a Super Star and receive the $250 Super Star Bonus along with the Super Star pin.
The Jump Start Club rewards and requirements remains unchanged except that the Diamond Award Bonus for qualifying for 12 consecutive months becomes $1,000.
We are excited about the number of Benefit Consultants who earned Jump Start Bonuses during the promotion, and we are confident that many more of you will earn them beginning July 1.
Dennis & Daniel Bloom