The New AmeriPlan Monday Challenge Conference Call Recorded & Available
Jan 10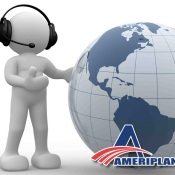 The NEW AmeriPlan Challenge Conference Call recording is now available for dial-in access.
To listen to the January 8th recording by telephone please dial 1-712-432-3131 and enter Recording ID: 71998901 when prompted for it.
NEW FEATURE
Watch and hear the Conference Call from our FB Live Broadcast!
AmeriPlan Conference CallOur first FB LIVE of 2018!

Posted by Michael Javier on Tuesday, January 2, 2018
Some recording features are available to you once you're listening.
1 will pause
2 will rewind 1 minute
3 will forward 1 minute
This service is provided by the folks at www.freeconferencecalling.com
Also Available
January 2nd, 2018
Recording ID: 38317987
NONE AT THIS TIME!
Have you download the AmeriPlan APP? Please download the APP Today and Stay Connected to all important Corporate Info with Push Notifications!
Apple Store
http://tinyurl.com/AmeriPlanAppleStore
Google Play
http://tinyurl.com/AmerPlanGooglePlay