Labor Day Holiday
Sep 03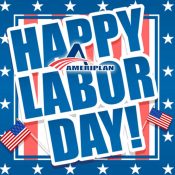 To observer the Labor Day Holiday, the AmeriPlan USA Corporate Office in Plano TX will be closing at 12:00 PM, Friday, September 4 and will be back in full operation on Tuesday, September 8th.
Both Dennis and Daniel Bloom would like to wish everyone a happy and safe Labor Day. Enjoy the time off with your families, friends and loved
ones. God Bless everyone and God Bless America!
AmeriPlan USA Corporate