MEMORIAL DAY
May 25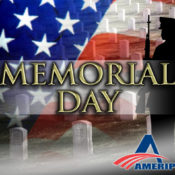 We hope this message finds you and yours well. We wanted to inform you that our offices will be closed in observance of Memorial Day weekend from Friday, May 26th through Monday, May 29th. We at AmeriPlan want to honor all those who have made the ultimate sacrifice and we hope you and your family have a safe Memorial Day weekend.
Please note that the Jump Start Club Challenge Call, which is typically held on Monday, May 29th at 3:00PM, will be rescheduled for Tuesday, May 30th at 3:00PM. We look forward to having you on the call.
If you have any questions or concerns, please do not hesitate to reach out to us.