Season's Greetings.
Dec 22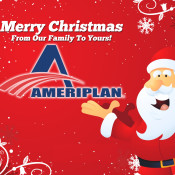 The AmeriPlan Corporate Office will be closing early Wednesday, December 23rd at 1:00 pm and will remain closed through Friday, January, 1st, 2021. We will return to our normal business hours on Monday, January 4th, 2021!
Please check the AmeriPlan Calendars on our corporate websites.
AmeriPlan USA Holiday Message!!
AmeriPlan Corporation Founders, Dennis and Daniel Bloom and the entire AmeriPlan family, would like to wish you and your loved ones a joyful and healthy holiday season.
From our family to yours…. MERRY CHRISTMAS and HAPPY NEW YEAR!