AmeriPlan November 2016 Newsletter Is Now Out!
Nov 22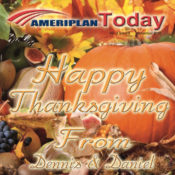 The AmeriPlan Today Newsletter November 2016 Issue 3, Vol 3 is now available in your Mobile Back Office.
Goto: eKITS Downloads/AmeriPlan Today Newsletter
To read the AmeriPlan Today newsletter, log on to your Back Office. Go to your eKits. At the very bottom you can find the newsletter link.
The newsletter is in PDF form for easy reading.
Inside you will find:
• Message From The Editor
• From The Desk Of Dennis Bloom
• From The Desk Of Daniel Bloom
• AmeriPlan Halloween
• Legacy Income
• Millionaires
• Super Saturday – Jump School
• 24 Years
• Karis 360
• Promotion
• Purely Paradise Trip
• In Memory of Jerome Scott
Stay tuned for more future issues.