Join The AmeriPlan Success System Pre-launch Conference Call Thursday October 20th @ 3 pm CST or 8 pm CST.
Oct 20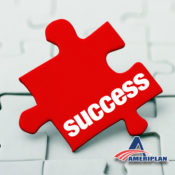 The AmeriPlan Success System Pre-launch Conference Call
We are very proud to announce that after many months of development, we are about to enter the pre-launch period for the new AmeriPlan Success System.  This is a very robust and comprehensive system to help you in building your AmeriPlan Business. During this pre-launch period we will be introducing the system, conducting training and accepting subscriptions that will be entered as soon as the system goes live, which should be a matter of days.
 You will see that The AmeriPlan Success System can handle most all of your CRM (Customer Relationship Management) and marketing functions with email, text, phone, mail and auto-responders. The system includes a complete media library and an extensive training video library. With the new system you can use your current data base, your own sourced leads, or leads purchased through the system.
The entire AmeriPlan Success System with all of the bells and whistles, will cost you only $24.95 per month, and on top of that if you subscribe in the first ninety-days of availability, you will get you first ninety-days FREE.